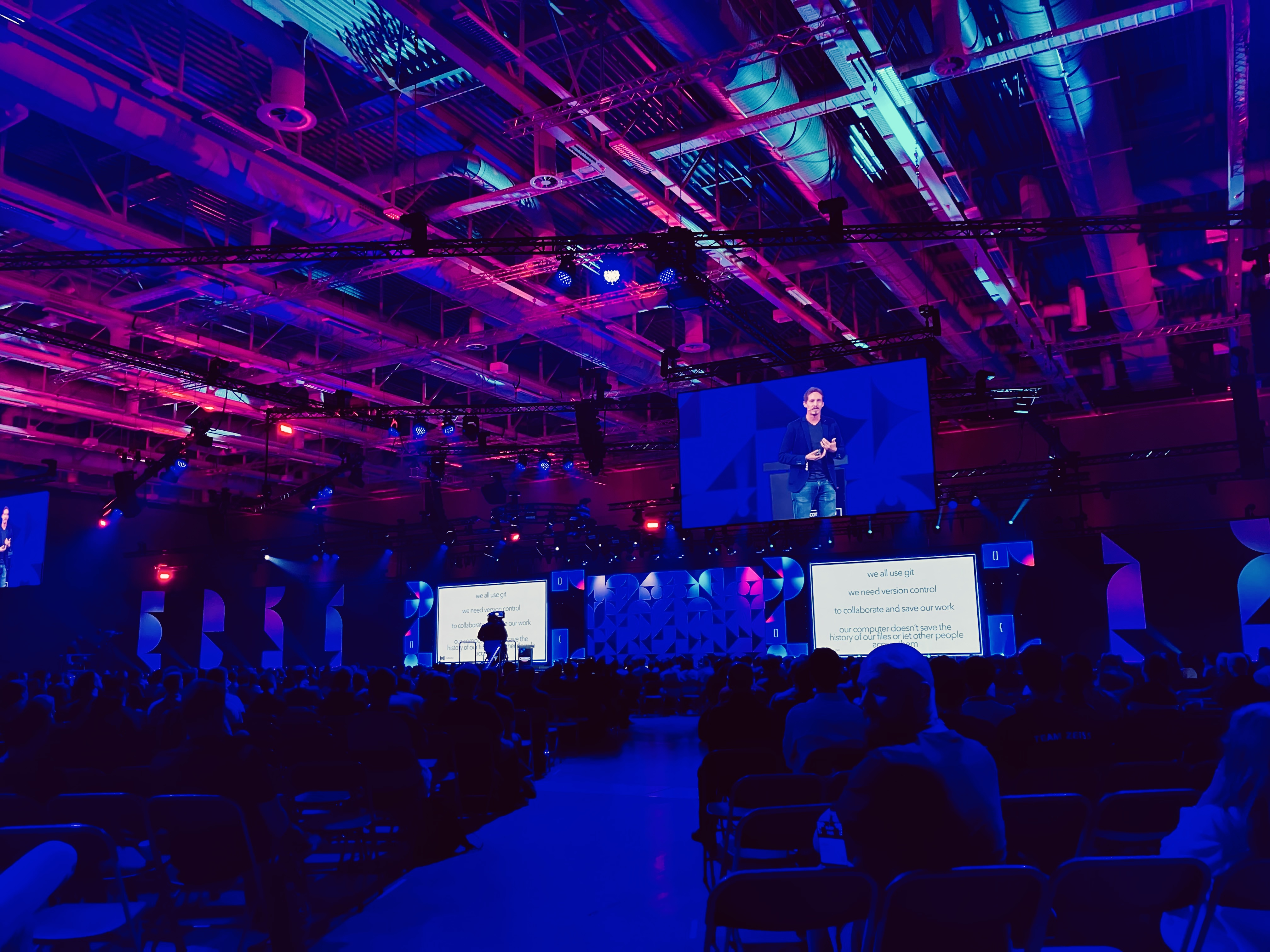 Dr. Humera Noor Minhas, eyeo Director of Engineering, returned for the second time as a speaker joined by Engineering Lead, Rupak Chakraborty, to co-host a workshop at WeAreDevelopers World Congress 2023 about how Manifest V3 can impact your machine learning pipeline. They shared their successes and failures as they pioneer the use of machine learning to automate ad filtering.
Besides sharing their first-hand experience in adapting their ML models to the changes MV3 presents and making them future-proof, they came away from the event with new learnings. This interview highlights their biggest takeaways from this year's event.
What were the key takeaways from your workshop on how Manifest V3 impacts the machine learning pipeline?
Humera: We had a very friendly and intelligent audience that expressed their apprehensions about MV3. This led to a great discussion (and I felt proud) to explain how we at eyeo saw past the obstacles of MV3 and were able to deploy a compliant solution.
They also asked questions regarding why we adopted the graph/text-based approach to ad filtering and not computer vision because ads are visuals. That gave us the chance to explain our historical efforts of using computer vision for ad filtering and why it didn't work out.
While it might be a better fit for solving problems like autonomous driving, the ad data is very unstructured because the same visuals may be part of organic or ad content.
(For more information on the challenges of using computer vision for our ad-filtering ML models and other obstacles we overcame, see our blog Project Moonshot: Overcoming machine learning obstacles.)
Rupak: Companies are betting a lot on AI especially Generative AI, executives have become more cognizant of the potential which AI holds and see it as an indelible part of the future.
We learned a lot of the participants in the workshop were already using our ad-blocking extensions (Adblock Plus and AdBlock) but they weren't aware that eyeo is the company behind the same.
Although the audience was well aware of different Machine Learning paradigms they were pleasantly surprised to learn that it can be applied to ad filtering and executed in the context of the browser.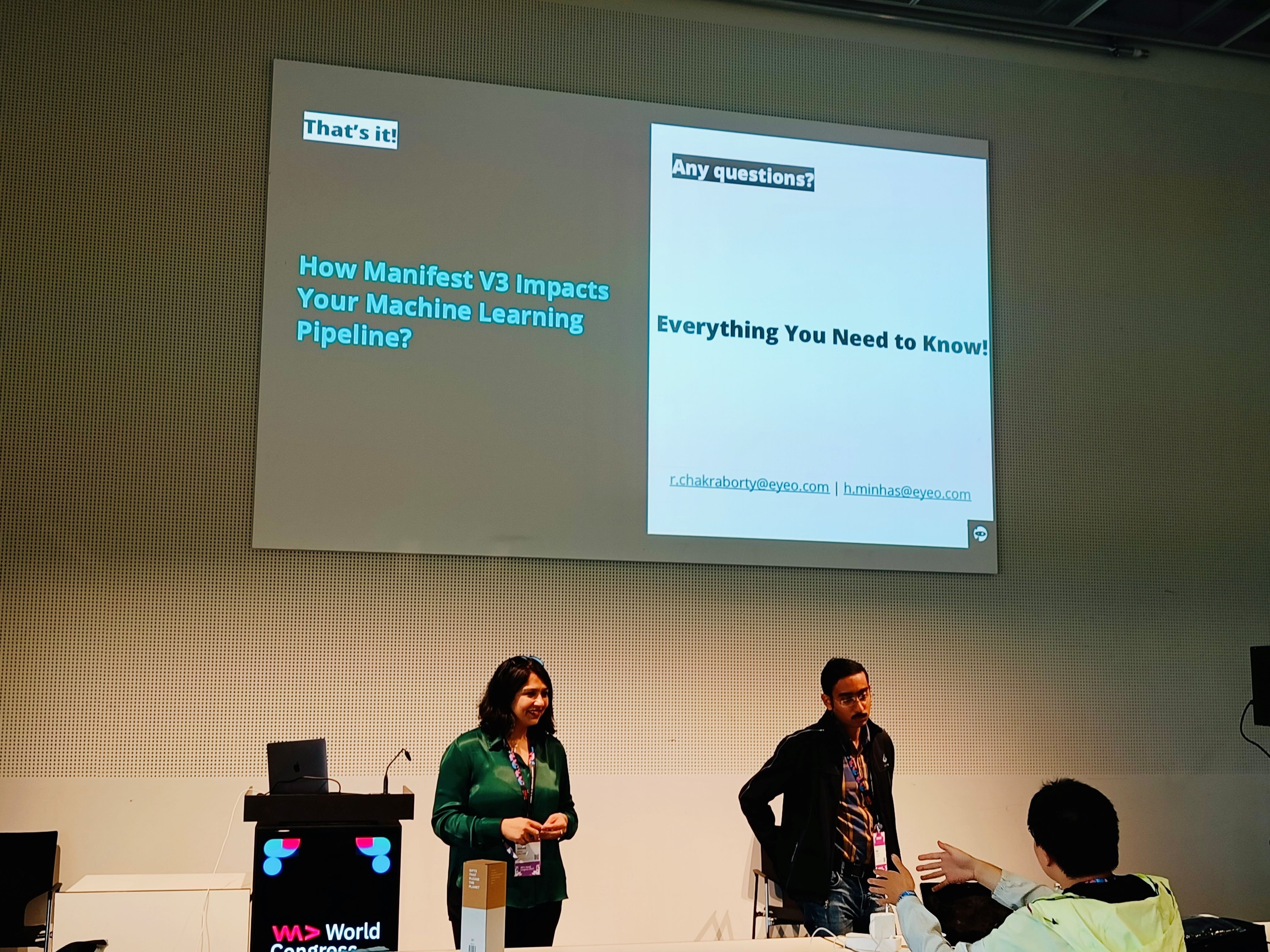 What were your biggest takeaways and learnings from this year's WeAreDevelopers World Congress?
Humera: There was a significant focus on artificial intelligence - more on the hopeful and positive future it brings than skepticism and fear.
We saw more talks about green coding and green software development. This is very much in line with our sustainability efforts.
It is interesting to see that people understand that digital is not always green. The impact that our design choices and usage behaviors have on the environment, cannot be undermined.
(See more on how eyeo consciously designs their ML models to optimize effectiveness and minimize environmental impact in our blog eyeo and Ethical AI: A sustainable machine-learning infrastructure.)
One of the best things about the summit is networking and letting your mind wander. You meet new people, intelligent people - and that interaction allows you to grow.
Rupak: There were a lot of talks and discussions around AI and Blockchain. The opening keynote by Sir Tim Berners Lee succinctly summarized that distributed and decentralized systems will be the future.
In the past year there has been a Cambrian explosion of Generative AI startups and that trend is set to continue in the future.
There is a lot of talk on potential applications of AI however, what I found missing was a consensus about the societal impact of AI. There weren't enough discussions regarding making AI systems transparent, fair and sustainable. This will become imperative soon with the introduction of the new EU AI Act, hence we should start talking about this sooner rather than later.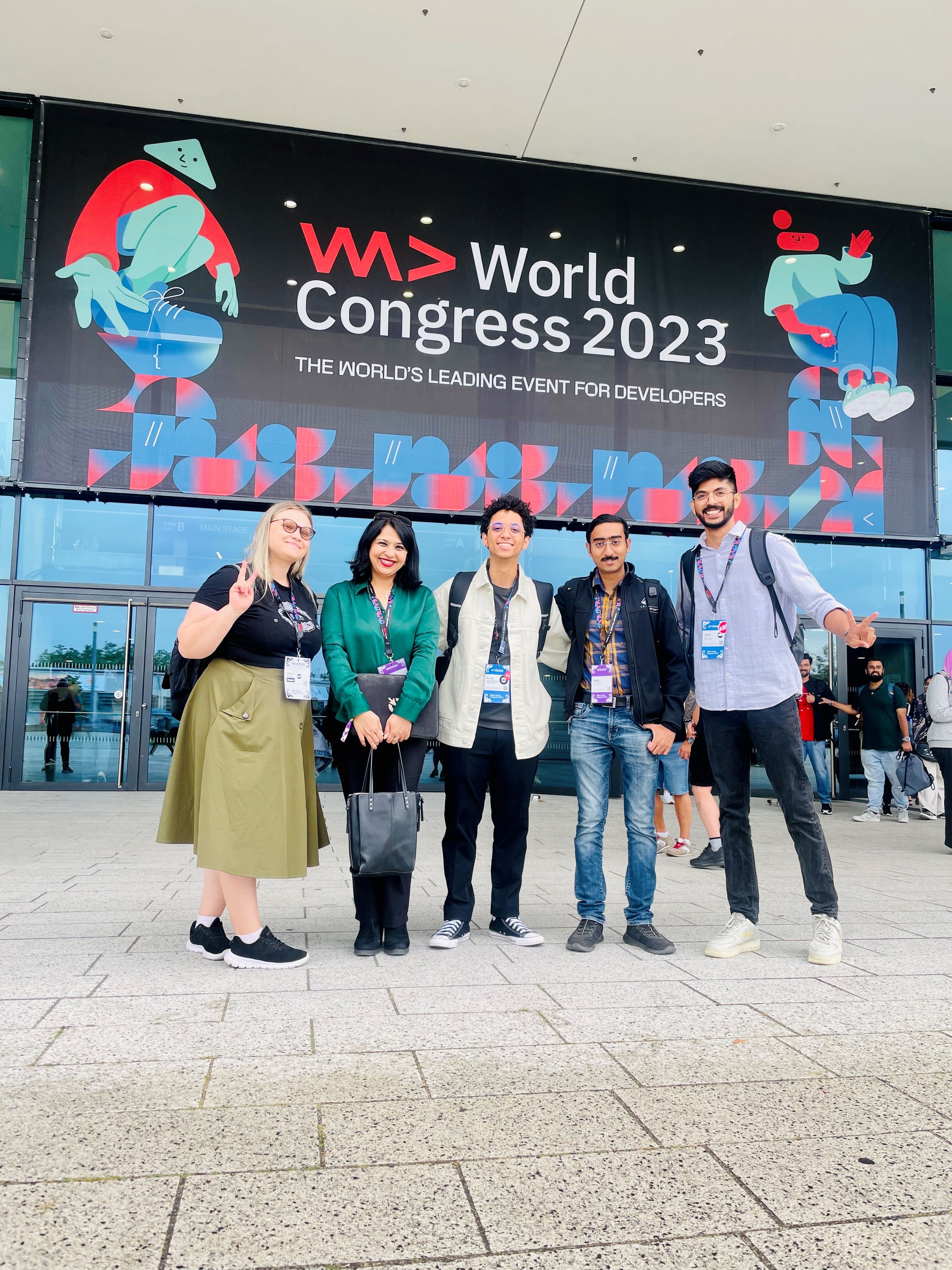 Overall, the workshop was a success in providing valuable insights into the impact of Manifest V3 on the machine learning pipeline and showcased how eyeo's innovative approach is shaping the future of ad filtering. The event highlighted the importance of networking, collaboration and open dialogue within the tech community, to not only spark new ideas but to raise the crucial questions surrounding the ethical development and deployment of these advancements. We will continue our commitment to ethical AI and sustainable practices and are looking forward to next year's WeAreDevelopers World Congress.
Next up: Ad-Filtering Dev Summit 2023
Don't miss Humera's and Parinitha Hirehal's session "The Now versus The Future: The Impact of AI on Ad Filtering" at Ad-Filtering Dev Summit on 4-5 October 2023 in Amsterdam or online. Their session will explore the dynamic landscape of AI in ad filtering, following the journey through the evolving realms of both product and engineering, where innovation meets the implementation of state-of-the-art AI solutions in our technology.
Visit the Ad-Filtering Dev Summit website to learn more about the speakers and how to attend (registration is free).