How Aloha Browser delighted users with eyeo Ad-Filtering Solutions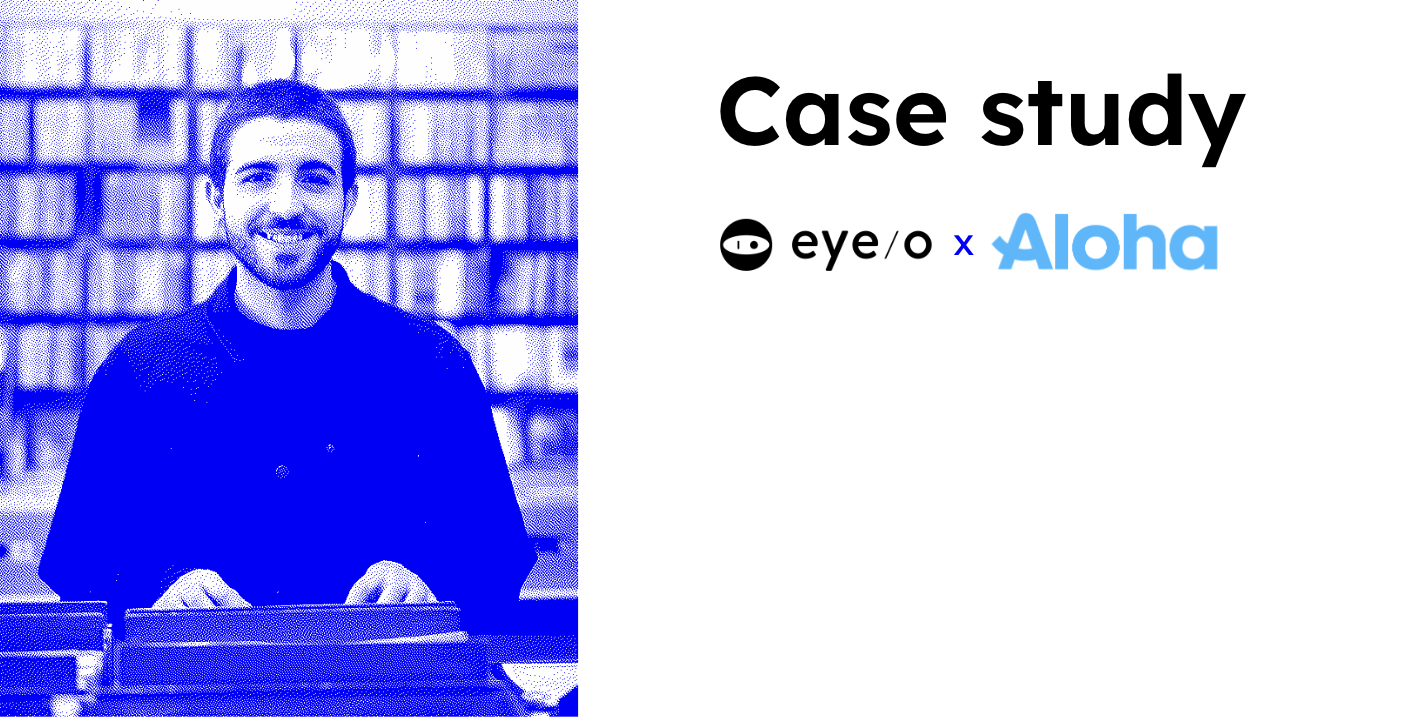 Aloha Browser's journey began with a small team whose aim was to create an ultra-secure private browser that was easy for everyone to use. In the words of Aloha's Founder, Andrew Frost, "Building a complex thing is hard but building the simplest thing is harder.
Since 2016, Cyprus-based Aloha Browser has set out to make digital freedom and digital privacy accessible to everyone. Through its mobile-first private browser, Aloha offers a seamless and intuitive user experience while providing easy access to content online anytime and anywhere.
Trust between the user and the browser lies at the core of constructing a private browser. On the journey to build this trust, user experience is the first stepping stone.
Problem
A positive user experience is made up of factors such as seamless browsing, browser performance and the display of ads during each session. Since ad networks are some of the biggest data collectors out there, a seamless user ad experience is a challenge for a privacy-focused browser. Aloha's founders decided ad filtering would be the best way to deliver an acceptable user ad experience without compromising privacy. However, the quality of the browser's ad filtering directly impacts the user experience and browser performance.
Developing ad-filtering solutions requires a team with specialized skills, including filter developers, testers and anti-circumvention experts. This can easily translate into a team of double-digit engineers or at least a team of 3-5 rockstar engineers and product experts with advanced expertise that come with higher pay packages. While quality ad-filtering solutions require a combination of specialized resources and time, another uphill battle is constant maintenance. Keeping up with fast-changing ad-filtering tech across different platforms, languages and large ad-circumventing publishers can quickly turn into a daily fire-fighting exercise.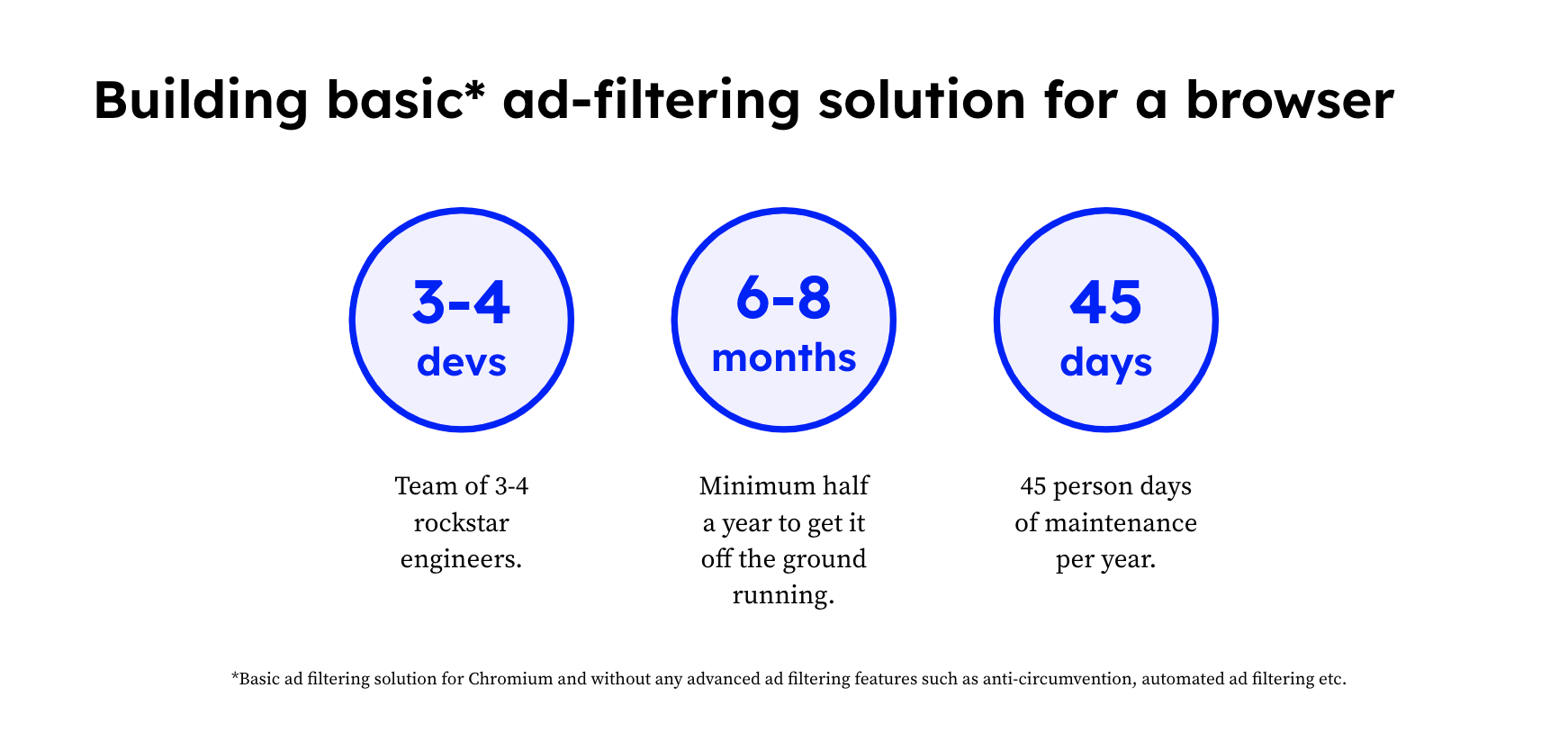 Given their team size of 10-15 developers, Aloha's founders made the strategic decision to outsource the ad-filtering technology instead of building an extensive in-house solution. The team at Aloha Browser could now free themselves of the stress of building and maintaining complex ad-filtering tech and focus their attention towards building privacy-focused features which would 'wow' Aloha users.
Solution
As Aloha, whose users are worldwide, began its search for an ad-filtering solution partner, they realized that keeping up with various ad networks across regions and languages would be quite complicated. They also had to keep in mind cross-platform performance. Running ad-filtering on low-end browser devices is tough. Ad-filtering solutions either slow down the browsers or eat into the battery of devices. Overall, the choice boiled down to three partners:
An existing open-source solution
eyeo Ad-Filtering Solutions
A US-based ad-filtering solution partner
The existing open-source solution would have given Aloha's team a lot of flexibility, but it came with its own maintenance woes. It didn't come with ready cross-platform support and was particularly slow on Android devices. This was a huge deterrent for Aloha to move forward.
Up next, the team at Aloha compared eyeo Ad-Filtering Solutions used by competitors. The competitors mostly supported North American ad networks, lacking coverage in Asia and the Middle East. (In ad-filtering solutions, coverage across regions is usually a function of the number of languages that a filter list supports.)
eyeo Ad-Filtering Solutions covered languages across more than 250 countries, unlocking a massive global user base from Asia and the Middle East and come with integration support and monetization. eyeo was the only partner offering this as part of their solution and it sealed the deal.
Unlike other Chromium browsers, Aloha was technically built from the ground-up. Integrating with various device versions required a good amount of technical hand-holding and eyeo was the only solution offering this support. And while monetization wasn't on the top of Aloha's list while looking across ad-filtering solutions, eyeo's monetization offered a way to diversify Aloha's existing revenue channels which made eyeo even more appealing. Finally, Aloha Browser chose to roll out eyeo Browser Ad-Filtering Solution to their entire user base.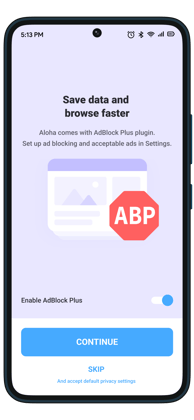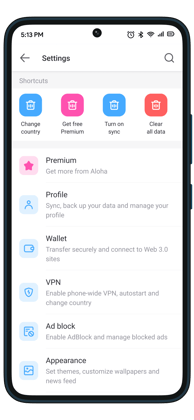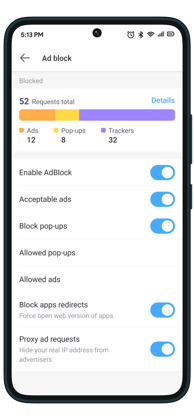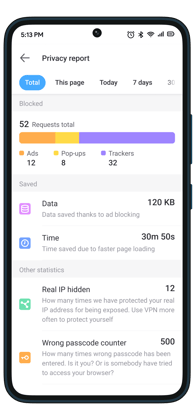 Results:
Aloha Browser's users readily embraced ad filtering since it enabled a superior browsing experience. Within no time, eyeo Ad-Filtering Solutions reached about 90% of Aloha Browser's users. About seven million Monthly Active Users now enjoy delightful, nonintrusive browsing across various devices and regions. A few months later in a user survey, 70% of Aloha users (part of the survey) mentioned, they loved their browser's eyeo-made ad filtering feature. Here's what some of the users are saying about the ad-filtering experience.
What Aloha users say: