Welcome, Google - Topics-based targeting is the right path forward
Google's latest proposal as part of the Chromium Privacy sandbox, Topics API, is a move in the right direction for a more private advertising landscape. In fact, our support of this proposal should not be surprising: topics-based targeting is a concept that eyeo already promotes, with our product Crumbs, a privacy protection technology that enables topic-based targeting in a similar privacy-preserving manner, having already been in active operation for over a year. Furthermore, the ideological alignment is also in empowering user choice with more control, where Google, like Crumbs, will use a UX that enables the user to decide which topics are shareable.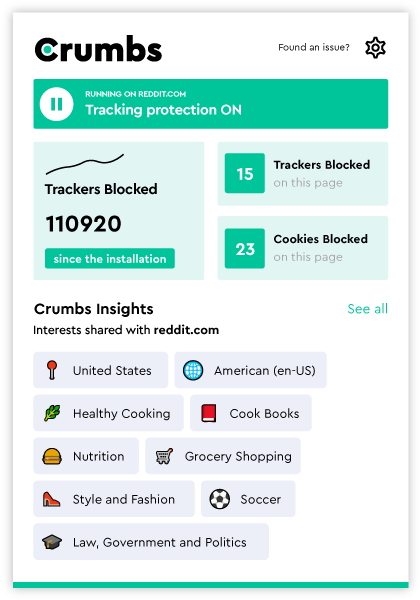 There could not be a better time for Google's announcement than right now. This week is Data Privacy Week, an international initiative that aims to empower individuals and encourage businesses to respect user privacy, safeguard data and enable trust. We find this to be an extraordinary opportunity to invite more participants in the online ecosystem to work together and contribute to these efforts. In this way we can ensure content creation and online journalism remain free and sustainable and that users' rights are always respected. The web community and its economy are urging for new innovative means to reach this essential balance, and we're happy to contribute our knowledge on what users need and what the industry can provide without sacrificing user privacy for profit.
References: eyeo's original product proposal SPECTACLE, Crumbs extension Chrome and Firefox, Gitlab, also available in android as part of Adblock Browser.