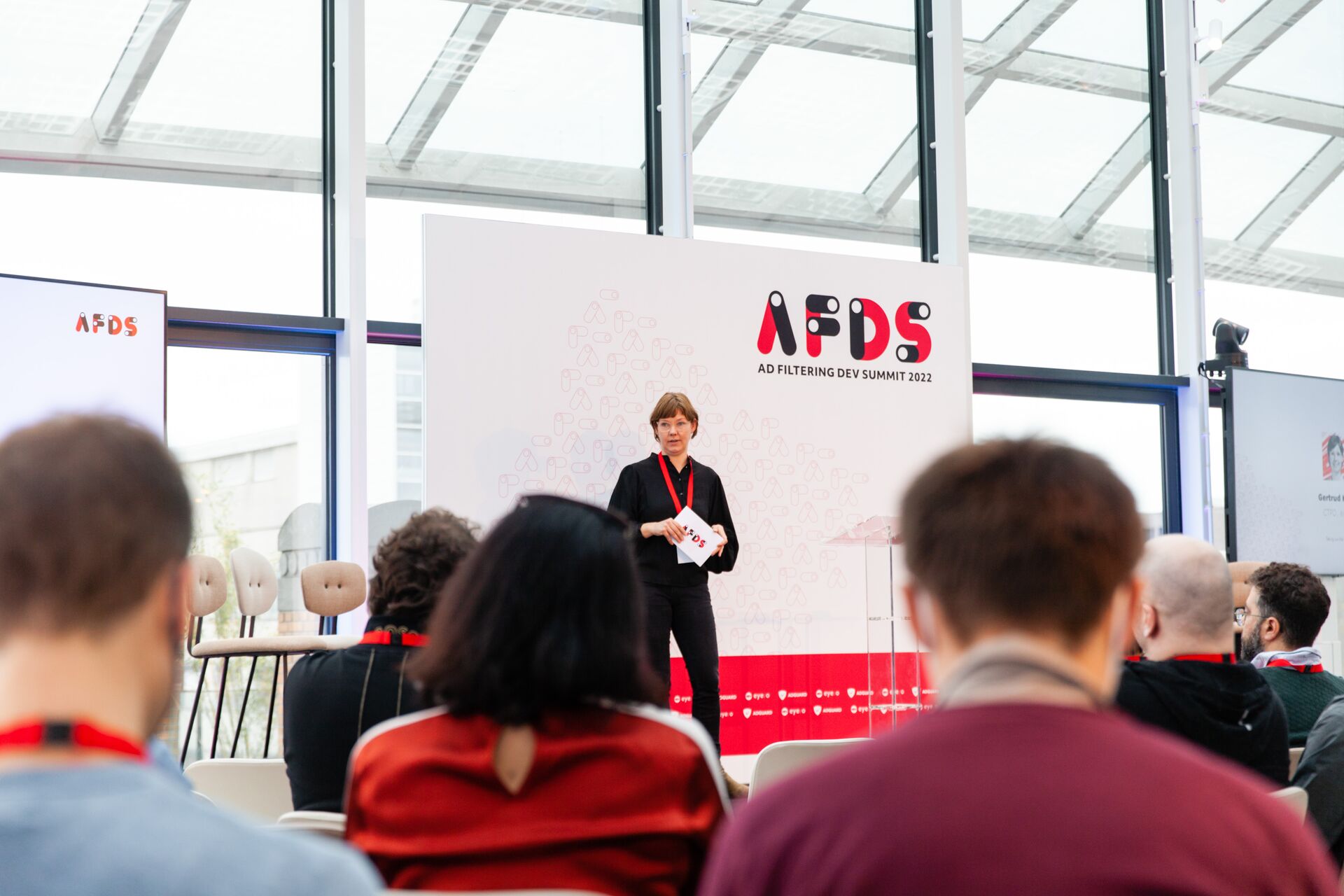 More than just ad filtering

The Ad-Filtering Dev Summit is back for its sixth edition from 4 - 5 October 2023 at Capital C in Amsterdam. This renowned event brings together industry experts, academics and professionals from the ad tech industry to engage in pivotal topics that can transform the digital landscape.
For those eager to delve into the details of the summit, Gertrud Kolb, eyeo CTO and the host of this year and last, shares her invaluable firsthand experience and insights from the 2022 event. Let's explore the exciting developments in store for AFDS this year!
Gertrud, having experienced AFDS for the first time in 2022, can you tell us about your experience?
It was a great couple of days! We were treated to multiple insightful sessions from top industry experts and academics from universities, including topics on privacy and even cutting-edge approaches to machine learning. It was a very broad and diverse event, with experts from Mozilla, Google and Meta (and more).
What truly impressed me was the engagement, questions and discussions that continued offstage. Participants and speakers were taking advantage of the networking opportunities during the break and fostering meaningful connections. There is a lot of passion and excitement in this group when discussing what the future holds.
What are you most excited about for the 2023 edition?
The strong sense of community that AFDS cultivates. This summit provides so much value and significance and I love that we have this event that brings together attendees time and again who eagerly reconnect and deepen their connections year after year. It's great to know that history will repeat itself at this year's summit – the enthusiastic 'hello's and 'nice to see you's will be on repeat!
Moreover, I'm also thrilled to witness the growth of the summit in both topics and participation. We want to broaden the event's scope, which means introducing topics that go beyond ad filtering. If you attended last year's session or caught a recap of it, you'd notice that we not only discussed ad filtering but also explored ideas around what ad filtering means for publishers and the entire ecosystem. It'd be great to further enhance the discussions by having the buy-side complement the dialogue, such as exploring the impact of Acceptable Ads on advertisers.
While the AFDS is primarily focused on tech, we're not making it solely business-driven. I believe it's important for us to provide a holistic overview from different stakeholders, including advertisers, publishers and users. A major track last year and this is digital privacy where we'll discuss tracking, control and user empowerment.
And what's new this year?
This year, we are thrilled to announce our collaboration with AdGuard as co-hosts for our exciting event. In addition to our in-depth explorations of machine learning, AI, ad filtering, and privacy—topics that have always been at the forefront of AFDS—we are introducing a new track focused on sustainability. This addition aims to complement our existing discussions and provide insights into building a sustainable online ecosystem.
The significance of privacy cannot be overstated, particularly in light of Google's plan to deprecate third-party cookies by 2024. As industry experts and innovators, it is crucial for us to come together and explore alternative approaches while ensuring the thriving existence of the online ecosystem.
Personally, I am particularly intrigued by the advancements in machine learning and AI. This field has witnessed significant progress, and at eyeo, we have made substantial investments in automated ad filtering. Therefore, I am eager to present and discuss our approaches during the summit. Moreover, I would like to delve into the current state of Generate AI, such as ChatGPT, and explore the possibilities of automating the creation of filter lists.
Throughout our discussions at eyeo and AFDS, we have often emphasized the importance of a balanced web. Now, let us delve into the impact of AI on the web and contemplate how these changes will influence the equilibrium of the online world.
Join us at AFDS 2023 as we collectively address these topics and work towards a brighter future!
What advice do you have for first-time speakers or attendees?
For those joining us for the first time, don't worry about not being part of the community yet. I can personally attest to this, as last year marked my inaugural experience attending (and hosting) the summit. There's absolutely no need to be locked within the themes of ad filtering only. Yes, ad filtering is in the name of the summit, but it's so much more than that. Last year, we even had a captivating session on blockchain which highlighted how dynamic AFDS is and can be.
The Ad-Filtering Dev Summit encompasses an array of topics, with everyone uniting on one key point: how we can all make a difference and improve the web to create a balanced environment for all.
It is made up of many pieces of a puzzle, so consider your piece a contribution to the big picture. We welcome all topics to collectively improve the state of the web for all stakeholders today.
I hope to see you there!
Join us at the Ad-Filtering Dev Summit from 4 - 5 October 2023 for a combination of insightful sessions in the beautiful location of Capital C in Amsterdam. Registration is now open, save your spot here.