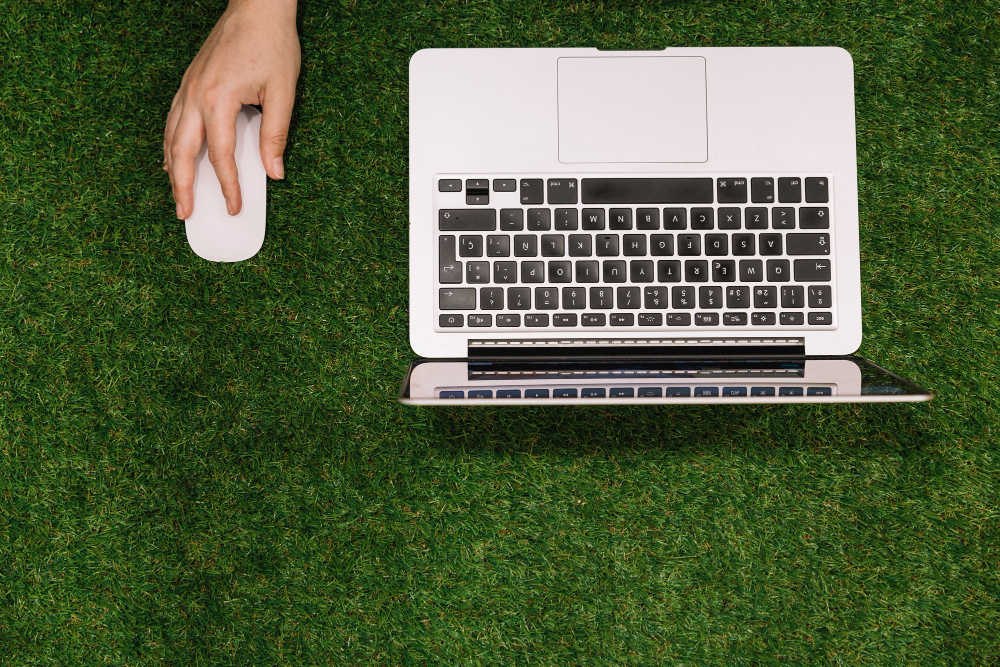 Sustainability isn't just a good project to engage with at some later date; sustainability is a necessary practice that should be implemented immediately.
It's an issue that unites the advertising ecosystem, but the urgency of the situation doesn't necessarily make finding solutions any easier. Although advertisers know that creating sustainable businesses is vital, it can be unclear what specific steps and actions can be taken.
Curious about sustainability solutions? Start by checking out our decarbonization tips.
Setting out on a journey towards sustainability might feel a bit like holding an old treasure map. The destination—achieving sustainability without compromising your bottom line—is clearly marked with a big, urgent X. However, the routes you need to take to get to that point can appear more like twisting, dotted paths than wide, paved highways.
There's good news though.
Even though we're still trying to identify one standardized way to measure our carbon footprint across the ad tech ecosystem, there's no reason to wait before moving towards decarbonization, even as we continue implementing new findings into our sustainability mission.
We've written this piece in order to guide you towards your destination. Our hope is that by suggesting a few starting points on your map, the paths forward will seem clearer and straighter, and you'll see that the treasure—sustainability without sacrificing revenue—is close at hand.
So: where to start?
Select sustainable programmatic platforms
It's easier to achieve your goal in good company—especially in an ecosystem as dynamic and challenging as advertising. Choosing a programmatic platform that prioritizes sustainability, and especially those that have implemented measures or dedicated research to reduce their environmental impact, is one of the most crucial steps you can take.
When selecting a sustainable programmatic platform, look for ones that , practice carbon offsetting, have sustainability initiatives in place or use renewable energy.
Let's take a closer look at two such platforms.
The purpose-led ad platform Good-Loop was the study of a recent article in The Drum that details how it "launched a tool that helps advertisers weed out carbon-intensive publishers."
The number of emissions varies from website to website, and picking and choosing where ads are displayed contributes significantly to a digital ad's footprint. This is where Good-Loop comes in, with the latest innovation in their carbon measurement solution, the Green Ad Tag. The Green Ad Tag helps advertisers block media partners that don't meet their sustainability criteria and targets.
Good-Loop's COO Ryan Cochrane explains how it all works, saying,
"[…] advertisers can make a real difference right now by making simple changes to the way they run their campaigns […]. Our pixel gathers up all the domain data from the ad campaign. From there, it looks at how emission-heavy the site itself is – looking at things such as the volume of ads.txt entries, data transfer, the assets on the page, and more."
Vetting publishers and choosing to weed out the more carbon-intensive allows advertisers to slash the emissions generated by their campaigns. One car brand cut its emissions by 41 percent, states Good-Loop, and another client, Brand Advance, cut its emissions by 10 percent simply by identifying ten domains to work with in order to achieve sustainability goals. What's more, Good-Loop claims that this doesn't affect performance.
The Green Ad Tag also makes a commitment to education and ongoing optimization, working with the advertisers throughout the campaign with the goal of further minimizing emissions.

Another platform doing high-level sustainability work is Scope3, with its mission to decarbonize media and digital advertising.
The story of Scope3's conception hinges on an important discovery: that reducing carbon and waste helps save money and drive revenue. The name of the Scope3 game is spreading information—a specific, granular look into the carbon footprint of every ad impression across a campaign. This vision, states Scope3, "delivers visibility into the biggest sources of emissions and waste […] provid[ing] detailed per-channel, per-country emissions visibility, providing a stake in the ground for driving industry-wide reduction."
In keeping with its dedication towards making information concerning the carbon footprint across media and advertising readily available, Scope3 releases reports on the state of sustainable advertising. The most recent one is fascinatingly full of education and, yes, sobering facts—did you know, for example, that the global impact of advertising emissions is equivalent to the entire aviation and shipping industry of Portugal? Check it out here.
Optimize ad creatives for efficiency
Performance isn't just a project of viewability and targeting. The creatives need to get onboard, bringing in design optimized for efficiency. Key ways to achieve this include using optimized file formats, compressing images, and reducing file sizes to minimize bandwidth consumption and energy usage during ad delivery.
The Acceptable Ads Standard is committed to the project of smaller, nonintrusive ad formats, a mission that not only reduces total carbon emissions, but also makes for a less invasive—hence the word "acceptable!"—user experience.
This also has significant implications for revenue: a user bombarded with large-scale, intrusive advertisements is significantly more likely to leave the page. Nearly a quarter of US internet users find that online ads are "too annoying"—meaning 1 in 4 users is likely to navigate away from a large ad rather than engage with it.
Conversely, users are generally happy to see ads that don't negatively impact their browsing. Good things, as it turns out, come in small packages.
Set sustainable corporate social responsibility
objectives
We know that every journey begins with a single step, whether it's the hunt from buried treasure or the hunt for sustainability without sacrificing revenue goals. And what proceeds that first, crucial step is often a game plan.
We've covered this in a previous post, titled Five ways to reduce your carbon footprint without sacrificing your revenue goals, that we suggest you read. It explains, in a step-by-step primer, the ways you can take action now, without waiting—and without harming your bottom line.
One of our goals in writing about decarbonization is to alert you to the many allies and partners you can enlist to help make your mission of sustainability a reality. Before that occurs, however, you need to commit to responsibility, ideally in writing. It's impossible to overstate the importance of establishing concrete objectives—even a brainstorming map scribbled on a white board can help pave the way forward, transforming the twisting path towards sustainability into a broad highway.
––
Sustainability Tech is a new focus topic of the upcoming 2023 Ad-Filtering Dev Summit in Amsterdam and online from 4-5 October 2023. Registration is now open, save your spot here.