Progress, not perfection: A dialogue on sustainability and privacy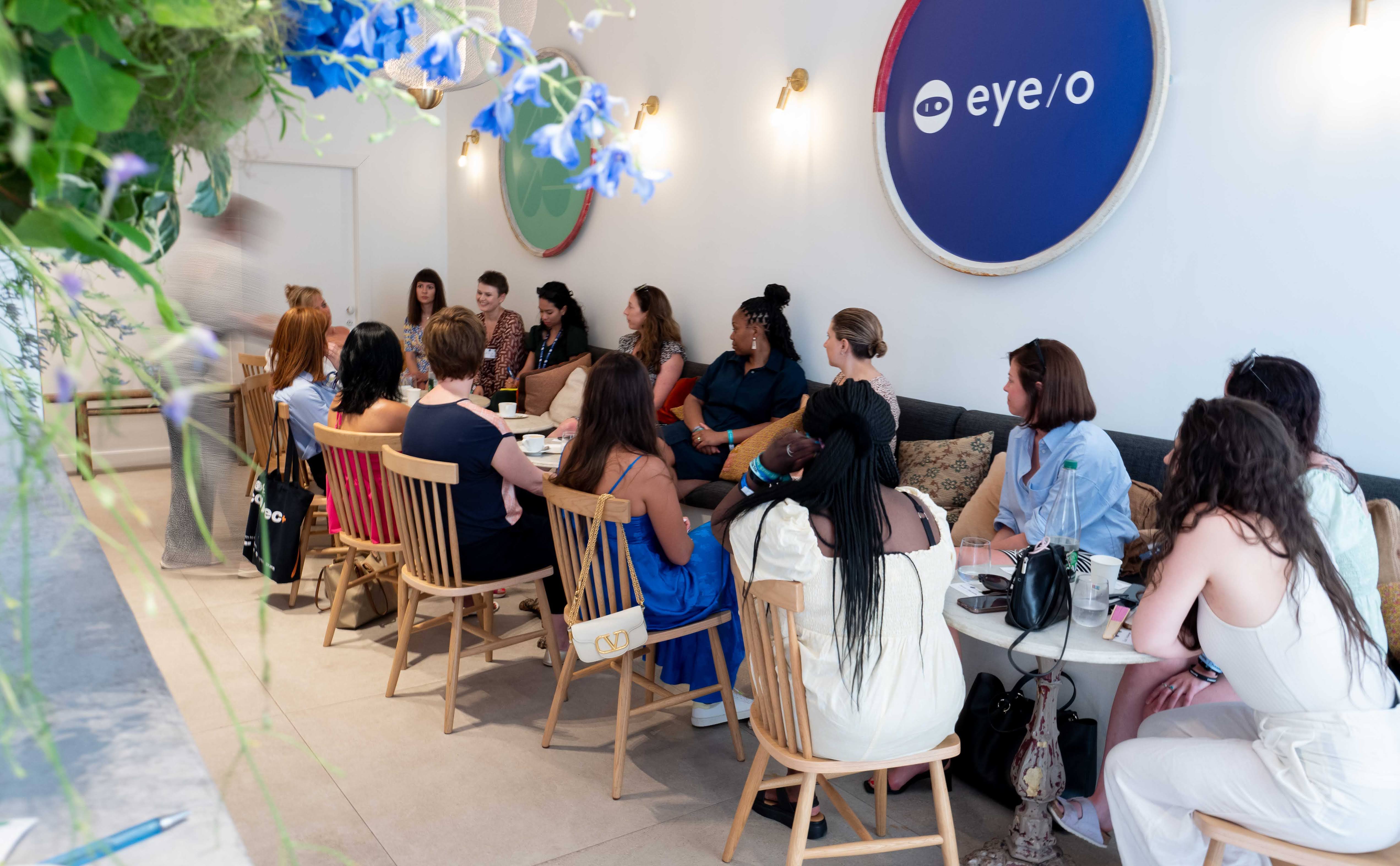 Cannes Lions 2023 provided a platform for industry leaders and experts from the ad industry to delve into key topics within the world of digital advertising. And the one big takeaway? There's definitely a real desire around cleaning up clutter and creating an experience that focuses on quality over quantity.
Despite the industry complexities and the number of stakeholders involved, many are reinventing ways to keep the ad tech industry prosperous without harming the environment and planet. And sometimes that starts with a conversation, or two.
eyeo hosted a thought-provoking breakfast for Women in Ad Tech in our townhouse during Cannes Lions, led by eyeo CTPO Gertrud Kolb. Over coffee, croissants and juices, representatives from multiple companies – Scope3, VIOOH, ShowHeroes, PwC, Sigma Software and Good-Loop – to name a few, talked about the state of sustainability in advertising today and the challenges and opportunities faced by the industry. Valuable insights were shared, emphasizing the need for concrete actions, accountability, incentives and transparent standards in order to champion transformation.
But one crucial question that surfaced was: are we simply jumping on the bandwagon? Are we engaged in superficial discourse about sustainability, or are we taking concrete actions to drive meaningful change?
The importance of action and collective responsibility
For starters, the irony was lost on no one in the room. Gathering in a glamorous Cannes setting while discussing sustainability is anything but sustainable, considering the total number of flights and carbon emissions produced to get everyone seated in the same room. However, we need to focus on "progress, not perfection," said Mary Cashman from Scope3.
"To drive change, we need to be where everyone is."
As we explored sustainability in advertising, we hit upon a crucial point: it's not just about talking the talk but walking the walk. It is time to shift gears and make lasting changes. While sustainability in advertising has gained significant attention just this year alone, action is what matters now. "How do we make ourselves accountable?" echoed a participant. At the core of it all, continuous education is vital to ensure that the ad tech industry and consumers are staying informed and ahead of developments.
For businesses to get on board and make sustainable changes (which will incur financial costs), introducing incentives could be the driving force to encourage them to embrace sustainable practices. One example given by a participant, Leigh Freund from NAI, was how supermarkets took away plastic bags and encouraged everyone to bring (or purchase) a reusable bag.
– "We need to take away the 'plastic bags' of advertising."
Industry-wide programs, regulations and initiatives are also possible catalysts for change, but it's "important to ask the right questions" and build trust while pushing the industry forward. It's not as simple as taking a certification or a stamp (e.g. a leaf logo to show that an ad is sustainable) at face value.
Striking a balance: Ethics, privacy and diversity and inclusion
Interestingly, attendees stressed the importance of avoiding "ethics washing" and "privacy washing" – using sustainability as a trendy buzzword without backing it up with genuine efforts. The key lies in striking a delicate balance between ethical practices, privacy considerations and sustainable initiatives.
And on the topic of avoiding buzzwords, one participant drew a comparison between sustainability and diversity and inclusion, saying that we need to be careful that sustainability in advertising does not lose importance down the line. Diversity, Equity and Inclusion (DE&I) was a big topic for a while and is still being discussed today – are significant actions and changes in place today?
"In my opinion 'sustainability' and 'carbon emissions' are topics and key trends that we seem to want to highlight a lot, across the industry, but have not quite realized the true efforts behind it. A lot like DE&I, in the industry, we talked about it for so long but didn't do anything to address the actions needed to realize change. It took ages for companies and brands to start looking at what their own business looked like internally, to put some KPIs and benchmarks in place, and to look at how we could create change and achieve on the KPIs identified, and, over what time scale. So this is exactly what we need to do with sustainability efforts," – Patricia Tarson, VIOOH
Now comes the question: how do we make sure that sustainability doesn't end up going down the same road?
Regulations and transparency
Drawing parallels from the impact of privacy laws, the attendees acknowledged the power of rules and regulations in driving change. Privacy laws served as a glowing example of how clear guidelines can motivate industry players to take action. "If you think about it, what changed for privacy was the introduction of laws," - Leigh Freund, NAI.
Transparency emerged as a key element, highlighting the importance of reasonable approaches to provide consumers and stakeholders with the necessary information to make informed decisions. There has to be transparent standards in place.
"What we as an industry need is transparency and understanding. Publishers, agencies and brands need to work collectively to first of all understand what their carbon footprint looks like and why. For companies to be held accountable we need a regulatory body or laws that steer us as a whole to comply with a basic set of guidelines that can deliver a significant change in the early stages. We need to see small changes happen collectively that become the norm but also enable a better footprint across the industry," – Patricia Tarson, VIOOH
All in all, this breakfast served as a platform for meaningful discussions on sustainability, privacy and diversity within the advertising industry. Participants agreed on the need to go beyond words and take concrete actions, fostering accountability and providing incentives for sustainable practices. By leveraging the lessons learned from privacy regulations and integrating sustainability into product development, the industry can pave the way toward a more ethical, privacy-conscious and sustainable future.
It's time we rally together and make a lasting impact in the digital advertising landscape. Sometimes it starts with sitting together at one table to talk about it, so we can walk the walk.